Monday's Not Coming by Tiffany D. Jackson
Published by  Katherine Tegen Books on May 22nd 2018
Genres: Contemporary, Mystery
Pages: 439
Format: Hardcover
Monday Charles is missing, and only Claudia seems to notice. Claudia and Monday have always been inseparable—more sisters than friends. So when Monday doesn't turn up for the first day of school, Claudia's worried. When she doesn't show for the second day, or second week, Claudia knows that something is wrong. Monday wouldn't just leave her to endure tests and bullies alone. Not after last year's rumors and not with her grades on the line. Now Claudia needs her best—and only—friend more than ever. But Monday's mother refuses to give Claudia a straight answer, and Monday's sister April is even less help.

As Claudia digs deeper into her friend's disappearance, she discovers that no one seems to remember the last time they saw Monday. How can a teenage girl just vanish without anyone noticing that she's gone?

The Review
---
Monday's Not Coming by Tiffany D. Jackson is a contemporary mystery with dark, dark roots. What starts off as an innocent story of a girl whose friend had seemingly vanished and no one's questioning it, does a complete 180 as we dive into their backstories. I was enamored from beginning to end and was always at the edge of my seat, dying to know what happens next.
Actually words spoken between me and the book itself.
The book's got lip.
I won't lie, I was a bit confused at the beginning as the story is told in alternating timelines and jumps between: Before, Before the Before, After etc. But it didn't take too long to get the hang of it and it was fund trying to figure out what the events were being referred to, before what, after what? I know I am probably not even making sense right now. You just have to experience it for yourself!
It's a good confused.
I promise.
I was definitely surprised in the end. There a few twists and things you don't see coming, and I thought Jackson took some pretty creative plot points to shock her readers. If you're looking for a story to keep you engaged from beginning to end, then this one is definitely for you!
I really enjoyed the writing a lot as well. It plays without a lot of your emotions as it takes dark turns, which on a sadistic level, I appreciated. As a reader I feel like it's hard to pull the wool over our eyes, especially with mystery type novels, but Jackson managed to keep things fresh and unique. I applaud her for that.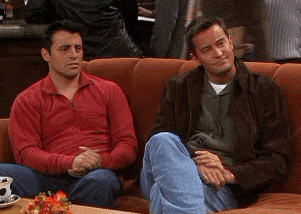 I see you. You got me with that ending.
I applaud you.
I highly recommend Monday's Not Coming! What would you do if your friend vanished without a trace and people just didn't seem to care enough? Read this one, and find out what happens for yourself!
---
Have you read Monday's Not Coming? What did you think of it?
Let me know in the comments!
---
Until next time,
TWITTER | GOOD READS | INSTAGRAM | BLOG LOVIN'
#

Where

Is

Monday
TIFFANY D. JACKSON is a TV professional by day, novelist by night, awkward black girl 24/7. She received her Bachelor of Arts in Film from Howard University and her Master of Arts in Media Studies from The New School University. A Brooklyn native, she is a lover of naps, cookie dough, and beaches, currently residing in the borough she loves with her adorable chihuahua Oscar, most likely multitasking.

You can learn more about Tiffany and her books at www.writeinbk.com