The Cruel Prince by Holly Black (The Folk of the Air #1)
Published by Little, Brown Books for Young Readers on January 2nd 2018
Genres: Young Adult, Fantasy
Pages: 384
Format: ARC
And Cardan is even more beautiful than the rest. I hate him more than all the others. I hate him so much that sometimes when I look at him, I can hardly breathe.

Jude was seven years old when her parents were murdered and she and her two sisters were stolen away to live in the treacherous High Court of Faerie. Ten years later, Jude wants nothing more than to belong there, despite her mortality. But many of the fey despise humans. Especially Prince Cardan, the youngest and wickedest son of the High King.

To win a place at the Court, she must defy him–and face the consequences.

In doing so, she becomes embroiled in palace intrigues and deceptions, discovering her own capacity for bloodshed. But as civil war threatens to drown the Courts of Faerie in violence, Jude will need to risk her life in a dangerous alliance to save her sisters, and Faerie itself.

*** Received an ARC from HBG Canada for an honest review ***
The Review
---
The Cruel Prince by Holly Black is the first book in a fae series that follows Jude, a human that was taken to the Faerie High Court by the fae who killed her parents. Now her and her sisters must navigate the life of being a faerie without actually being a faerie.
Possibly one of the best faerie books I have ever read. Hands down Black has mastered the way of telling a compelling faerie story filled with betrayal, blood shed, court drama, and sparks of romance. The Cruel Prince has it all.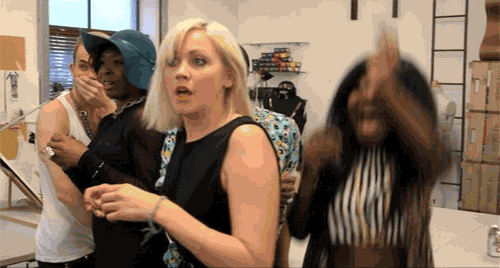 (That was me after I finished the book)
You know a book is going to be explosive when it starts the way The Cruel Prince did. The murder of Jude's parents right in the first chapter (prologue). It set the tone for how dark and compelling the story was going to be. It gives us backstory as to why Jude is the way she is in the present. It perfectly sets the book on the highest platform. You would think that would be scary… the higher it starts the farther it can fall. BUT I AM HERE TO SAY THAT DOESN'T HAPPEN. It only goes up from here.
Let's talk about the world that was so magnificiently created for our reading pleasure. It was so lush and vividly described that I felt like I was actually there experiencing everything the characters were experiencing. No other fae book can come close to the world that Black so graciously put down on the page for us.
Now the characters!
Jude Jude Jude Jude Jude Jude Jude Jude Jude Jude Jude Jude Jude 

Jude Jude Jude Jude Jude Jude Jude Jude Jude Jude Jude Jude Jude 

Jude Jude Jude Jude Jude Jude Jude Jude Jude Jude Jude Jude Jude

 Jude Jude Jude Jude Jude Jude Jude Jude Jude Jude Jude Jude Jude 
I couldn't help myself. Jude was such a refreshing take on a heroine. She was tough, ruthless, intelligent, and always ten steps ahead. I loved how cunning and brave she was. Always standing up to the faeries that bullied her and her twin sister. She never cowered or gave up. She was such a joy to read. As for Cardan, I'm a little conflicted. Am I supposed to like him or not? He was a huge ass in the beginning, but when times got tough and things weren't going for him, he starts to break down. Hopefully the next book will pull me onto his side because as of right now I'm stuck in a void when it comes to him.
Everything about the creation of the world and the writing was spectacular and I highly advise you bookworms to go out and get yourself a copy! The Cruel Prince is definitely going to be an instant fav!
---
Have you read The Cruel Prince? What did you think of it?
Let me know in the comments!
---
Until next time,
TWITTER | GOOD READS | INSTAGRAM | BLOG LOVIN'
#

Court

of

Darkness
HOLLY BLACK is the author of bestselling contemporary fantasy books for kids and teens. Some of her titles include The Spiderwick Chronicles (with Tony DiTerlizzi), The Modern Faerie Tale series, the Curse Workers series, Doll Bones, The Coldest Girl in Coldtown, the Magisterium series (with Cassandra Clare), The Darkest Part of the Forest, and her new series which begins with The Cruel Prince in January 2018.

She has been a a finalist for an Eisner Award, and the recipient of the Andre Norton Award, the Mythopoeic Award and a Newbery Honor. She currently lives in New England with her husband and son in a house with a secret door.